Leaving Five Dollars And The Law Of Attraction
Leaving five dollars and the Law Of Attraction is my new strategy. The financial increase from my home business has allowed me more wealth to extend to others.
I have been extremely fortunate in applying the lessons I leaned in Laina BuenoStar's little 99¢ Kindle book two years ago. I have stayed with my Three Simple Steps approach, but now, I am starting to use a $5 dollar bill, several times each week.
I am able to do this because of the blessings that have come from the profits of other sites in my home based Internet business, tremendous savings in the areas of medical and living expenses, and a series of high-profit stock investments I was led to by The Universe.
The Law Of Attraction has been working overtime, for me, and I am thankful. 
I remain confident of this: I will see the goodness of the LORD in the land of the living. ~ Psalm 27:13 NIV
I have several sites on the Internet that I have built through the SiteSell platform, and they are becoming more profitable each month. I monetize several of them with Google Adsense, as well as affiliate products.
The profit that I have made, along with the blessings I have received through investment opportunities appearing to me, are allowing me to plan a three-month vacation to various Rocky Mountain cities.
Although I live in a beautiful place, I am looking forward to getting out of the long, humid Florida summer and being able to run/workout in the coolness of places like Bozeman MT, Colorado Springs, and Santa Fe NM.
Although I have another website specifically dedicated to vacationing in the United States, I will still make some posts on here.
Leaving Five Dollars And The Law Of Attraction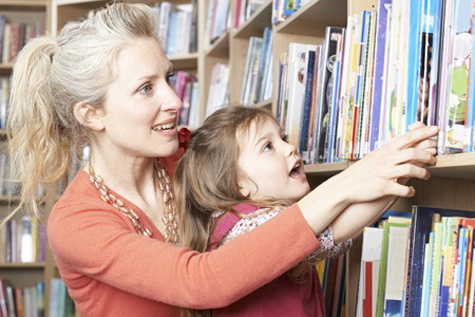 I started off leaving flat $5 dollar bills in books on child development at the main library here in town. I figured young mothers did not have a lot of money for purchasing books at Barnes & Noble.
I also started putting $5 dollar bills in the infant/toddler books that young moms read to their children. 
If I did not get to the library, I would leave a rolled five dollar bill in-between packages of diapers or formula in the Baby aisle at Winn-Dixie grocery.
One other thing I did was to change the wording on the notes I left with the bills. I usually said something like, "I wish much goodness for you and your baby. I want your lives to be filled with much laughter, Love, happiness, and closeness."


Leaving Five Dollars And The Law Of Attraction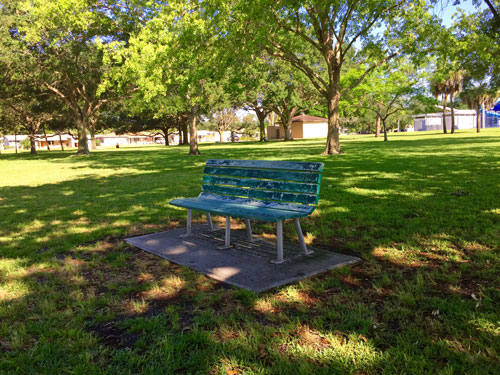 A second place where I have started leaving $5 bills is on park benches and at bus stops.
St Pete is home to a great many elderly people, many of whom are on fixed incomes. They spend a great deal of time relaxing in our beautiful parks, as well as using the public transit system to get around for errands.
I know that finding a $5 dollar bill would be a great surprise for most of them.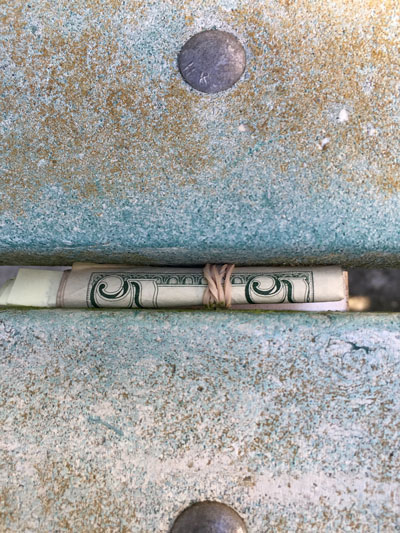 I just wedge it in between the slats, deep enough so it cannot be seen immediately, but turned so that recipient knows what they have found.
I'm certain the finders feel the same amount joy as I feel when I hide it.
I may place bills in the same benches, but I do this months apart. 


The steps of a good man are ordered by the LORD: and he delighteth in his way. ~ Psalm 37:23 KJV

I have a strong desire to be a good person, and help others in way that does not draw attention to myself. I know many of you are the same way.
I am not saying that I have the best way, but it is working for me and I have been richly rewarded.
God is looking out for me, guiding me, and directing toward new opportunities for wealth...as well as new opportunities to help others.
I am thankful for this guidance. Leaving five dollars, and the Law Of Attraction have propelled me to much richer experiences. 
Go to Home page from Leaving Five Dollars And The Law Of Attraction
Benefits Of A Personalized Soul Reading
Filed Under: Leaving Five Dollars And The law Of Attraction

What is the 7 Day Prayer Miracle? 
Pandemic News  - You Can Successfully Work From Home
Can You Really Manifest Money?
The Tao Of Rich - It Is All Here For You
Amazon Prime Makes Life Much Easier
Amazon Prime
So Convenient When You Are Forced
To Stay At Home


Follow me on the Leave 1 Dollar Blog
Best Books For Financial Increase