Prepare Your Dollar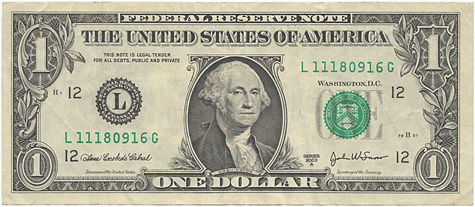 Call In The Law Of Attraction



How you prepare your dollar is up to you. This is how I do mine. It doesn't really matter for the Law of Attraction to work. All that's needed is a sincere heart, faith in God to guide you to your highest financial good, and a grateful attitude for the blessings in your life.
** The key to money manifestation is correcting your perspective on money with the right mindset. This $7 course, which costs about the same as a Starbucks latte, has helped tens of thousands of everyday people to increase their financial attraction.

Do nothing from rivalry or conceit, but in humility count others more significant than yourselves. Let each of you look not only to his own interests, but also to the interests of others. (Philippians 2:3-4 ~ ESV)

The only reason I created this page was because so many people contacted me. Some were panicked that they would do it all wrong.
There is no wrong way. I know some people who crumple theirs up. Others fold theirs into an interesting Origami figure. Some just smooth a dollar bill out and let the wind (God's breath) take it where it needs to go.
I know people who type a short prayer and paperclip the note to their dollar. Others have ordered custom printed sticky notes.
However you prep your dollar...it will be fine with the Universe.
I have this same material on my page about the steps I take to call in the Law of Attraction, but you have to scroll down a bit.
How To Prepare Your Dollar the
Leave 1 Dollar Way


For I do not mean that others should be eased and you burdened, but that as a matter of fairness your abundance at the present time should supply their need, so that their abundance may supply your need, that there may be fairness. (2 Corinthians 8:13-14 ~ ESV)

I usually prep several dollar bills ahead of time. I enjoy doing it and it helps to put me in a thankful state of mind.
A lot of times, I listen to subliminal MP3 downloads with a pair of headphones. I have read that the binaural beats are therapeutic and enhance the centers of your brain responsible for positive thoughts.
(It certainly provides a more peaceful feeling than listening to...say...an album by Guns N' Roses.)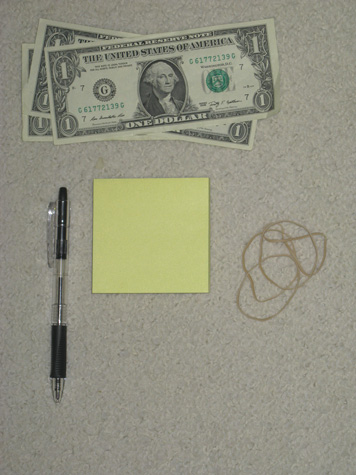 A few dollars, some Post-It notes, some rubber bands, and a pen are all I need.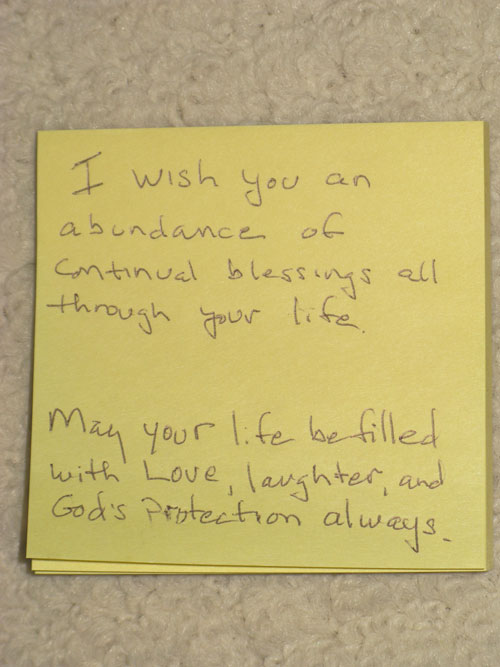 I write a short prayer for the receiver. God wants us to be a blessing to others. Words have impact...use them to uplift others every chance you get.

I stick the note on the left-hand side because it makes it easier to roll into a small tube.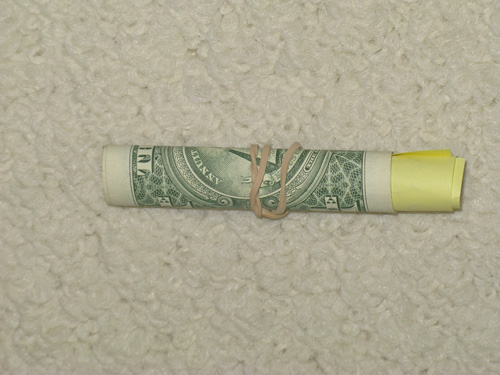 I finish things off by snugging it down with a rubber band.
I like making these little tubes because they are easy to lay on the top of books, wedge into a bus stop bench, or drop behind a couple of bottles of shampoo.
They will definitely catch a stranger's eye.
Like I said, there is no wrong way to prepare a dollar bill. God knows what is in your heart as you are doing it.
The Law of Attraction works on energy vibrations...feelings...the intent for goodness...compassion for other...and unselfishness.
Just because I do it this way at Leave 1 Dollar, doesn't mean you have to do it exactly the same.

Go to Leave 1 Dollar home from Prepare Your Dollar page

Whoever brings blessing will be enriched, and one who waters will himself be watered. (Proverbs 11:25 ~ ESV)

Filed Under: Prepare Your Dollar




What is the 7 Day Prayer Miracle? 
Pandemic News  - You Can Successfully Work From Home
Can You Really Manifest Money?
The Tao Of Rich - It Is All Here For You
Amazon Prime Makes Life Much Easier
Amazon Prime
So Convenient When You Are Forced
To Stay At Home


Follow me on the Leave 1 Dollar Blog
Best Books For Financial Increase