Three Simple Steps For The
Law Of Attraction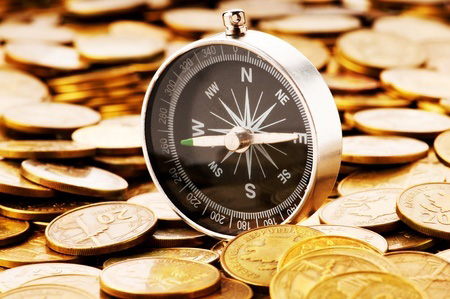 Navigating Your Spiritual Path To Wealth

Three simple steps for the Law of Attraction is all it takes. There is nothing complicated about harnessing the power to guide you to abundance.

These 3 simple steps will reveal the secret for you to bring more goodness, more favor, and more financial increase into your life.
In reality, there is no new "hidden secret." What I am going to show you is just a clear-cut way to put together the basic tenants of The Law Of Attraction and receiving God's favor. It will be easy, practical, and solid.
Stop looking for "new ways" to manifest wealth (or abundance in anything.) Stop looking for for the one "undisclosed secret." Stop buying every new book or CD set that comes out on the Law Of Attraction.
It has all been said! There is NO new material on this subject. This method from me is NOT new material.
The main reason people fail at the experiencing God's Favor or manifesting their dreams with the Law Of Attraction is that they simply do not follow the steps. Any steps...

They read the material, they buy the $99 CD set...but they do NOT follow the steps. I know because this was me. I flailed around, looking for the one perfect plan...when all along I had everything I needed...if I had just committed to a path for more than a couple of days without searching for the one great secret.
Finally, I did.
And, I did it because I was not creating the life I wanted. I decided to focus my efforts on the bare basics, and create my own method by distilling down all that I had read and listened to.

It came down to three simple steps.

It doesn't matter if you are new to walking a spiritual path, or you are experienced in manifesting healing experiences, you can benefit from what I will share.
The Lord shall increase you more and more,
you and your children. (Psalm 115:14 ~ NLT)
Three Simple Steps - Step 1
Pray With Intent and Expectancy

*In all of the following discussions, I will use "God" as the focus of my personal spirituality. You can use "Universe" or "Creator" or "Supreme Being". It doesn't matter...trust me, He'll hear you.
The first of the Three Simple Steps is to make a prayerful connection with God about what you wish in your financial life (or health...or love life...or for your children...you get it.)
This does not have to be anything fancy...with a lot of Thee's and Thou's pouring out. It is just entering into a normal conversation with God...our Heavenly Father...who wants to bless us, guide us, and help us reach the rich abundance he has promised us.
It can be as simple as, "God, I want to have financial freedom so that I can help both members of my family, and those in my community. I know I cannot do this by myself. I ask You to guide me to the prosperity you have planned for me. I know Your favor is more than I can even imagine."
Once you have declared your prayer, spend 10-15 minutes meditating (thinking about) God's goodness...how he blessed you in the past...and how he will bring financial abundance to you in the future.
This is not begging.
This is not a "one and done" situation...although it is possible to get some results that way.
This is an opportunity to connect with God all through the day, every day.  In all situations, look for his blessings (a smile from a stranger, a parking place next to the store when it is raining, your car starting on a snowy morning) and give thanks for each all through the day.
When you get a quiet moment, thank God that he is working on your blessing for wealth. It will come in an unexpected way, such as a new job...a good investment idea...a home business you can start.
(Truthfully, asking God to help you pick the winning PowerBall numbers -- then laying around on the couch all day will not get you where you need to go.) God helps those who help themselves, and you need to move your feet as well as keep holding an attitude of thankful expectancy.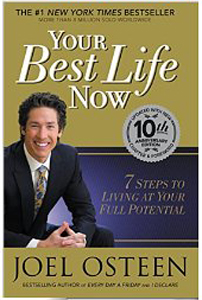 What helped me the most was being guided to a book by Joel Osteen called: Your Best Life Now: 7 Steps To Living At Your Full Potential.

It spoke directly to me, and made more sense than any spiritual or self-help book I had ever read.
He solidifies the concept that God is a good God...NOT a controlling judge of sin, looking to smite you with affliction and punishment.
Joel Osteen helped me enlarge my vision of God, pray continually, look forward to His favor, and give thanks for his blessings all through the day.
You will be enriched by Joel's motivation to claim your own abundance, and live in financial freedom. This gave me the impetus to create Leave 1 Dollar.

Step 1 of The Three Simple Steps: Pray With
Intent and Expectancy
I pray, let the power of the Lord be great, just
as you have declared. (Numbers 14:17 ~ NAS)
Three Simple Steps - Step 2
Leave One Dollar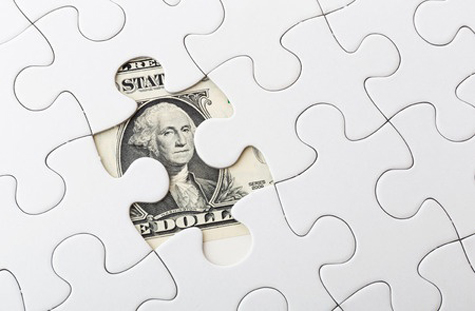 Now we are getting into the proactive phase, where you take action to build the foundation for your financial success. I love this part of my day...whether it is "creating" the small gifts I extend to the Universe...or placing them to be found.
This step gives me a sense of helping others, doing the right thing, or making Life a tad bit easier for someone else who may need to be uplifted. (Don't we all?)
Step 2 of the Three Simple Steps is very easy...you will leave one dollar in a place where a stranger will find it. You do it quietly, without fanfare, and you walk away.

That's it.
All you are going to do is leave a $1 bill in a place where someone unknown to you will find it.
In this way, you are creating an outflow in the Universe that will be met with an inflow to maintain the balance. You will be extending goodness and cheer to someone who God directs to find your gift.
You can start with as little as four to five $1 dollar bills, and leave one at a different place on a certain day each week.
You can start with more, and leave one several days each week. I have committed to leaving a dollar each and every day because I have seen the unbelievable favor given back to me by God.
Where do you leave these dollar bills? Anywhere.
I normally leave them at Walgreens, Barnes & Noble, Sam's Club, Winn-Dixie, the YMCA, St Pete Library, the Post Office, a city park, or any office building I happen to visit.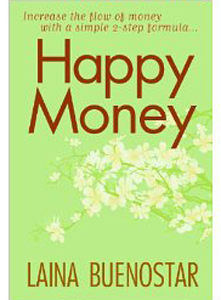 I got this idea after reading a great little Kindle book, by Laina Buenostar, called Happy Money.
She has a wonderful perspective on giving, and how it opens your heart and your life to receive blessings in return.
It only cost me 99 cents...and what a bargain.
This book is life-changing. Laina is extremely insightful about the spiritual significance of secretly gifting just a single dollar...and receiving a blessing of ten-fold or even a hundred-fold.
It is easy to read, easy to understand, and only takes about an hour. I continually refer to it all during the year.
The main points are:
- You give freely.
- You "hide" your dollar in a place where it will be spotted.
- You leave immediately.
- You do NOT stick around to see who the recipient is.
- You do NOT go back to check to see if anyone has found it.
- You trust God/The Universe to put in the right hands.
- You rid yourself of all thoughts of "lack" so you can receive.
The old things have passed away; behold, new things
have come. (2 Corinthians 5:17 ~ NAS)
Here is how I create my gifts for Leave 1 Dollar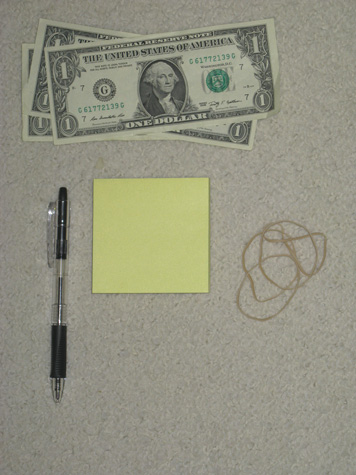 I start with several $1 bills, a pen, some Post-It notes, and some small rubber bands I bought at Home Depot.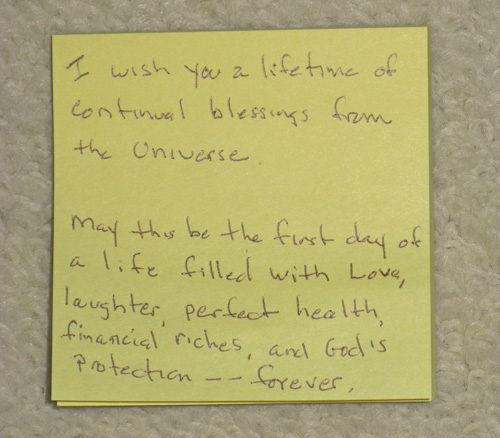 I write a small prayer (or two) for the recipient.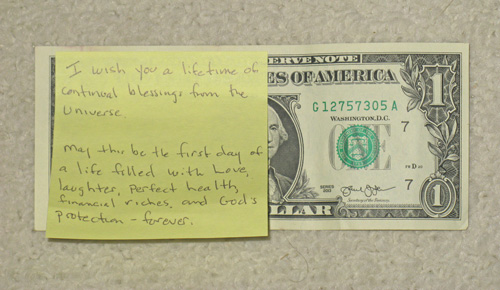 Then I attach to sticky note to the $1 dollar bill.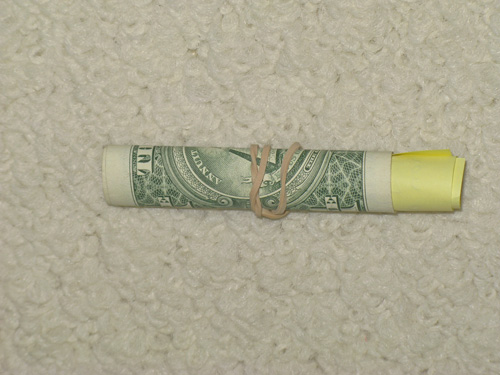 From there, I roll it up and place a rubber band around it. This makes it a more curious attraction. I know someone will spot it.
After that, I just put one in my pocket each morning and look to "hide" it on top of a book, behind a can of beans, between two containers of shampoo, wherever I think it will surprise the person to be blessed.
Step 2 of The Three Simple Steps: Leave One Dollar
A generous man will prosper; he who refreshes others
will himself be refreshed. (Proverbs 11:25 NIV)
Three Simple Steps - Step 3
Give Thanks - Keep A Grateful Attitude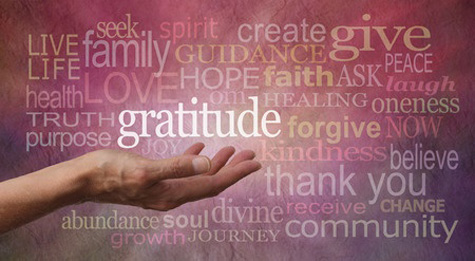 If prayer is the most powerful force in the Universe, then the words you speak run a very close 2nd...and, the most important words you can speak are ones of thankfulness and gratitude.
When you praise God by recognizing the blessings he continually sends you throughout the day, you open the door wider for Him multiply the goodness you are already receiving.
When I leave 1 dollar, I always say something like, "Thank you God that you have given me the means to do this each day. I know you will return this gift to me a hundred-fold, and I can increase my giving to those who need it."
All through the day, I work hard to demonstrate an "attitude of gratitude."
From the minute I wake up, I seek to thank God for everything from my eyes, to being fit, to living in a great condo, to having food to eat, money in the bank, my own Internet business, a wonderful woman in my life, my truck that runs so well, God's protection in traffic...it is hard to stop.
Leave 1 Dollar is more than just a site to help you generate increased wealth...it is about changing your thoughts and outlook so that your life will change in more and more positive ways.
When you give thanks and keep a grateful attitude, God increases his blessings of prosperity on you. Why would he not want to increase His Favor when you demonstrate humility instead of entitlement?

God wants to see you happy, vibrant, and fulfilled. He wants to give you the desires of your heart. There is nothing in God that wants to see you discouraged and poor.
All he wants is your faith in Him to deliver, and praise to Him when your miracle arrives.
Your words...the ones you use in your thoughts, your interaction with others, and in conversation with God...your  will take you directly to the destinations along your spiritual path that resonate with the vibrations they create.

Step 3 of The Three Simple Steps:
Give Thanks Always - Maintain A Grateful Attitude
In everything give thanks: for this is God's will
for you in Jesus Christ. (1 Thessalonians 5:18 ~ NASB)
Final Thoughts on The Three Simple Steps
For The Law Of Attraction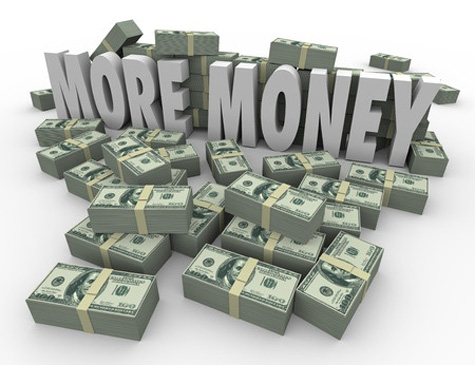 The Law of Attraction works...in any direction. If you commit yourself to an unwavering spiritual path to manifest more wealth, you will astound yourself with the results.
This means more than just being highly motivated the first couple of days...but losing interest when you do not get immediate results. Commit for just 30 days...then 90 days...then a lifetime. (Which will be easy because your results will be overwhelming.)

If you apply these steps found in Leave 1 Dollar, sporadically and haphazardly, you will get mixed results. Yes, you will see some instances of financial increase/savings...but they will not be consistent.

If you read through the Three Simple Steps, smirk, and tell yourself this is just a bunch of happy nonsense...you will get nothing...because the Universe will do everything in its power to grant you your vision. It is called "Spiritual Congruency" and it works perfectly.
I was thankful to find an inexpensive Kindle book that opened my eyes to this.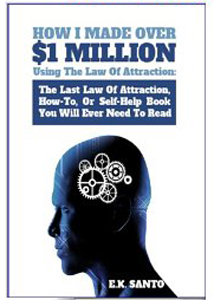 How I Made $1 Million Dollars Using The Law Of Attraction was part of the Divine Plan to start me along a path to even greater financial success.
E.K. Santo's writing is clear, uncluttered, and focused. There is no fluff.
What was even more amazing is that his story was like reading my own. I could easily identify with his constant search for the next great secret...and his hit and miss success with manifesting what he truly wanted.
I wish you all the goodness God has waiting for you. I wish you a life of happiness, Love, perfect health, and amazing financial wealth.

The Law Of Attraction works, and if you use the Three Simple Steps, it can work for you.
Three Simple Steps to Creating Wealth

* Pray With Intent And Expectancy
* Leave 1 Dollar
* Keep A Grateful Attitude - Give Thanks For All Experiences

Return to Home page from Three Simple Steps For The Law Of Attraction


Words and The Law of Attraction are powerfully linked
Your Purpose In Life And The Law Of Attraction
Discouragement And The Law Of Attraction
Filed Under:Three Simple Steps For The Law Of Attraction


What is the 7 Day Prayer Miracle? 
Pandemic News  - You Can Successfully Work From Home
Can You Really Manifest Money?
The Tao Of Rich - It Is All Here For You
Amazon Prime Makes Life Much Easier
Amazon Prime
So Convenient When You Are Forced
To Stay At Home


Follow me on the Leave 1 Dollar Blog
Best Books For Financial Increase